Hello, Happy Friday and Big smiles to YOU! I hope you have a fantastic weekend… and Happy Birthday wishes to my Sister 😀
Take Care and God Bless,
Jen
JGoodeDesigns * Lil' Goodies
Remember, if you like what you read here, pass this letter on to YOUR friends and family!
We're Moving!
Within the next few weeks I will be moving this mailing list to a new host. You will be required to opt in… read more.
"Love one another and you will be happy. It's as simple and as difficult as that." – Michael Leunig
*** Featured Goodies ***
*** Goodies to Wear or Share! ***
New Penguins: the healing kind. Inspired by recent medical experiences, thes fun new penguins are perfect for Get Well Wishes and gift for Medical Professionals.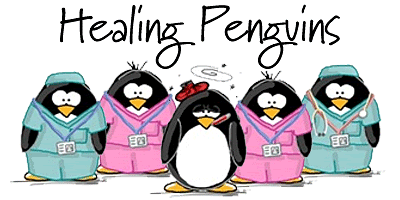 Jobs & Occupations and Misc Penguins
*** Spotlight – Special Thanks to YOU ***

I'd like to once again say thank you for all of your support! Because of the fabulous JGD supporters and customers, I was again able to support another Breast Cancer Awareness event. All contributions are a result of purchases made by YOU, of my Breast Cancer Awareness designs. This quarter my sponsorship went to a fabulously giving woman I met about a year ago named Missy Ward. Missy and her team, "Team Affiliate Marketing", will be participating in the 3 day walk in Minnesota from August 24-26th.
Thank You!
***** Have a GREAT lil' Day! *****
You have received this mailing because you are subscribed to the lil goodies
mailing list.
[tags] lil' goodies, jgoode[/tags]