Have a wonderful weekend!
I hope the sun is shining in your neck of the woods. Send a smile to someone
special this weekend… you never know who will need it.
God Bless, Jen * JGoode Designs * Lil' Goodies
Remember, if you like what you read here, pass this letter on to YOUR friends and family!
*** Today's Goodies ***
"The hunger for love is much more difficult to remove than the hunger for bread." – Mother Teresa
May you live every day of your life. -Jonathan Swift
*** Goodies to Wear or Share! ***

Spring is in the air
and there are brand new
spring smiles to share!
Check out the new
Easter and Spring goodies.
*** Featured Designer ***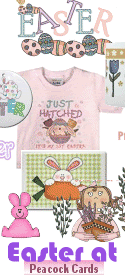 You'll find some of the most adorable Easter and spring related items here including lots of bunnies, tulips, and colored eggs on Easter T-shirts for adults and baby's first Easter, Easter keepsake boxes and keepsake ornaments, Easter throw pillows, buttons, and much more! We have several cute Baby's 1st Easter T-shirts, bodysuits, and bibs for both boys and girls!
Feed A Child!
Every time you click, you feed a child
in need!
Save $5 on all orders of $20 or more. Use coupon code CLOUDSCHOOL during
checkout. Expires February 26, 2007.*coupons only valid for products available through JGoodeDesigns.com
***** Have a GREAT lil' Day! *****